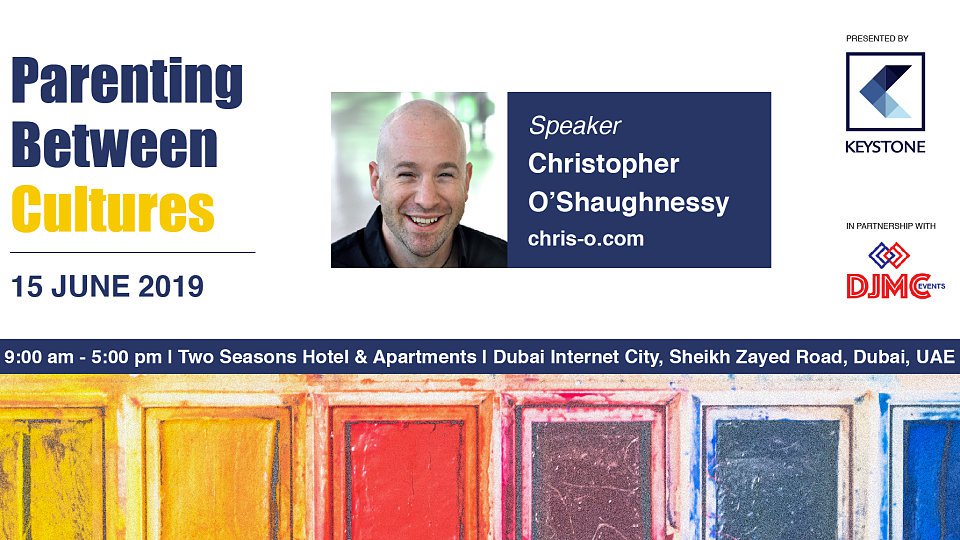 15 June, 2019 from 9:00am - 5:00pm
Many parents in Dubai observe their children actively engaging in different cultures, oftentimes not being aware of the challenges that accompany these experiences and transitions. Many Dubai children are Third Culture Kids (TCKs) – children who spend their formative years in places that are not their parents' or passport-issuing homeland.
Join together with other parents as Christopher O'Shaughnessy – a passionate speaker on globalization and cross-cultural understanding – leads this Parenting Between Cultures Conference specifically designed to equip parents of third culture kids for the unique challenges of parenting in an international city such as Dubai.
Plenary sessions will cover topics such as TCK identity, strengths, and challenges, as well as unresolved grief and planning for the future. Workshop sessions will dive deeper into transition and change management, relationships across cultures, and conflict resolution. Panel discussions, Q&As, and small group discussions will help you to process the new tools you've learned and begin to apply them within your family.
We encourage you to invite your fellow parent friends from your children's school to strengthen cross-cultural skills in your social circles.
The price for the Parenting Between Cultures Conference is AED 120 per ticket. Tickets will be available at Friday Fellowship Services on May 31, 7 June, and 14 June. Tickets are also available for purchase online; visit bit.ly/parentingbetweencultures to purchase tickets.
Invite friends and fellow parents using the event listing on Facebook here.